Some Of My Favourite Sport Sledges
Love it or hate it, sledging is a part of the game.
Some are good at it, some don't care, and the past weekend showed that some are rattled by it so much they can't help but lash out.
I don't know what Will Chambers said to Kane Evans, and don't really care. It's between them.
But I absolutely love the old stories of the great sledges in not just our game, but all Australian sport.
Here are some of my favourites.
"You are a Fuckwit"
It's an art to get someone questioning what your teammates think of you. And Johns was an artist.
Wendell Sailor often tells the story that Johns would call Big Dell before games to wind him up.
When an opposition player piped up at a scrum at the refs call during a game early in his career, Johns fired back:
"Your teammates are right about you, you are a fuckwit" Johns said.
Simple…yet effective.
Things didn't always go to plan for the Eighth though.
Leading 16-2 at halftime in the 2000 Preliminary Final against the Roosters, Jopey quipped to Luke Ricketson in the tunnel "Mate, get ready for fucking Mad Monday"
Knights went on to lose it 26-20…ouch.
JT v Pearce
After Pearce fired off to JT and his teammates about being old in Game II of the 2015 Origin series, JT fired back in one of the All-Time sledges.
Not sure of exactly what was said here but it goes along the lines of:
"He should probably get a photo with Wally's statue because that's the closest he was going to get to holding the shield"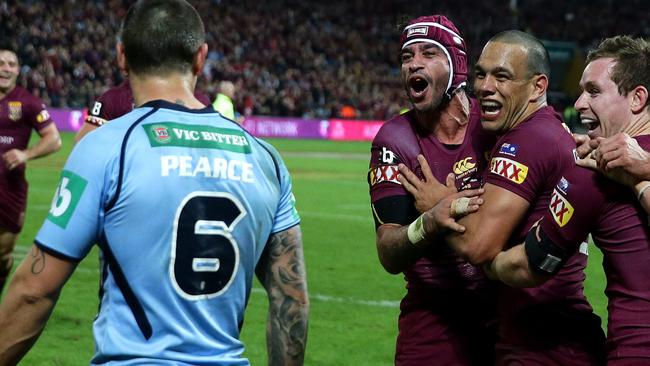 'Tickets Please'
This is an excellent piece of back and forth between Merv Hughes and Javed Miandad.
"Merv you are a big, fat bus conductor," Miandad said to Hughes.
Merv coming back after taking Javed's wicket…"Tickets please"
Waugh Time
James Ormond only ever played two Test matches for England, but he will be forever remembered for his comment to Mark Waugh in the 2001 Ashes at the Oval.
He strolled to the crease with England 300 behind, and was met by Australian captain Steve Waugh's brother Mark.
"Fuck me, look who it is. Mate, what are you doing out here? There's no way you're good enough to play for England." Waugh said.
Quick as a flash, Ormond replied: "Maybe not, but at least I'm the best player in my family."
(via cricket365.com.au)
The Greatest
"I've seen George Foreman shadow boxing, and the shadow won." – Muhammad Ali.
Honestly if sledging was school lesson, Muhammad Ali was the teacher.
Just go back and watch his interviews/promos and enjoy.
What is your favourite sledge?
– Uncle Roasty